Setting up a CCTV security system, whether it is for the home, office, or retail shop provides an additional layer of security, however there are a myriad of options, cameras, recording devices on the market today, making choice quite overwhelming.
The below guide by DIY Security Cameras hopes to cover everything you need to know about purchasing a DIY Security system in Australia.

What is CCTV Security System
A basic CCTV security system consists of one or more security cameras and a recording device. The security camera captures the video footage and streams this to the recording device (NVR), which stores the footage for later viewing or retrieval.
There are several types of security surveillance systems
IP Security System
Analogue Security System
Here at DIY Security Cameras we focus on IP security systems as we believe these types of security systems will be the future of security surveillance systems.
What is an IP Security System
IP (Internet Protocol) security system typically consists of cameras and a NVR (network recording device). The cameras are typically connected directly into the back on the NVR, using ethernet cabling (CAT5e/CAT6). The NVR in turn provides power (Power Over Ethernet) and data to the camera across a single ethernet cable.
This type of connectivity makes the IP security system very flexible and easy to install. IP security systems have become extremely popular for most security installations and provide high quality video and images. IP security systems also allow for remote viewing and alerting from/to smartphones.
Advantages
Easy to set up (plug-n-play)
High video and image resolution
Requires a single ethernet (PoE) cable per camera.
System can be easily upgraded.
Different megapixel size cameras can be accommodated on a single NVR.
Additional features in the cameras (ie line crossing, face detection,intrusion detection, zoom) allow for more advanced analytics
Video data is typically encrypted in "flight" and when stored.
Dis-Advantages
May require large storage capacity.
---
Types of Camera Housing (Domes/Bullets/Turrets)
There are various types of CCTV cameras in the Australian market. Here is a list of the most popular CCTV camera types:

Bullet cameras
Bullet cameras have a cylindrical shape and can cover long distances. They are mostly used outdoors and are dirt, water, and dust resistant. It is also easy to adjust the viewing and monitoring direction of bullet cameras. The steel casings of bullet cameras make them resistant to vandalism and tampering. They also have IK10 ratings and weatherproof ratings of IP67. Bullet cameras also have longer infrared ranges compared to domes and turrets.
Pros
Easy to install directly onto a wall.
More visible.
Easy to aim and reposition. (ie Axis 360 degrees)
Better night vision and less IR bounce back.
Longer IR range.
Cons
If installed down low can be easily vandalised.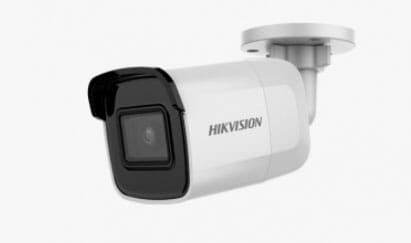 Dome cameras
Dome cameras have a dome-shaped casing and are designed for internal and external use. These cameras have durable covers that are resistant to vandalism and damage.
Pros
Vandal proof.
Discreet.
Harder to see where the camera is pointed.
Typically has a wider field of view.
Shorter IR distance than a bullet.
Cons
IR bounce back, which can affect the image, especially at night.
Dome cover attacks dust and fingerprints
Needs more maintenance and cleaning than other styles
Harder to install.
Harder to re-position.
Can trap condensation if the dome cover is not installed correctly.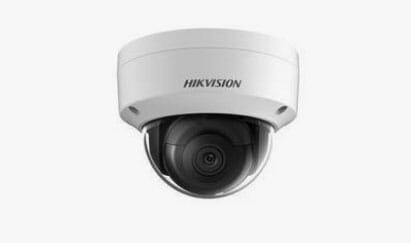 Turret Cameras
The turret camera is like a ball-and-socket type of camera or sometimes referred to as a "pig nose" camera. This style of camera offers high-quality video/imagery without the dome casing of a dome camera. Easy-to-use alternative to a traditional bullet or dome camera.
Pros
Easier to install.
Will not trap condensation.
No dome cover to get dirty.
Better night vision.
Less IR bounce back.
Can be mounted directly onto a wall.
Cons
Less discreet.
More prone to vandalism than a dome camera.
---
Lens Options
Fixed
A fixed lens camera does not allow the lens to be adjusted. The lens focal length is set and cannot be adjusted or changed. Fixed lens cameras typically come in 2.8mm/4mm/6mm or 12mm lens sizes.
Motorised Zoom
A motorised zoom lens, sometimes called vari-focal, provides an optical zoom option. This means the camera has an inbuilt motor that allows for the lens to be "zoomed" in or out, thus narrowing or widening the field-of-view of the camera. This allows the camera to focus in on distant objects bringing them into focus more clearly. Typical motorised zoom lens cameras have a range of either 2.8mm-12mm or 8mm-32mm.
Pan Tilt and Zoom (PTZ) Cameras CCTV
PTZ cameras contain a camera lens that can be controlled remotely to tilt up or down, pan left or right, and to zoom in or out. These movements are made possible by a motor that is inbuilt into the camera. PTZ cameras also have an auto-roaming feature that allows you to set up patrols within the perimeter of your business. At night, PTZ cameras offer an infrared range of between 100 to 500 meters.
PTZ cameras offer the best flexibility and total control over the movement of the camera lens, allowing for more coverage of any area by having fewer cameras.
What features should one look for when purchasing a CCTV camera?
Before you set out to buy a CCTV camera, there are various features that you need to look out for. Below are some of the key features to consider:
Remote access
Any CCTV system today must come with a companion smartphone/tablet APP that will allow for remote viewing and also push alert notifications. All cameras and NVR sold by DIY Security Cameras come with this functionality built-in and it's free.
Day and Night vision
Most cameras will provide a good/great image during the day when lighting is good. However at night there are great differences in video quality and image depending on whether the camera has inbuilt-in IR (infra-red) or has a white light, thus allowing for a color image at night. As technology progresses more and more cameras are coming on the market with a "white light" LED option. Hikvision calles this technology "ColorVu". ColorVu allows for the camera to record video and images in color at night thus providing better clarity of the video footage/image and allows for better identification of intruders clothing, color of the car etc.
Comparison of CCTV cameras
As you can see there are so many types of CCTV cameras. This means that selecting one option can be confusing to the buyer. To make it easier for you, we recommend two types of CCTV cameras; AcuSense and ColorVu. Why do these two types of camera security systems stand out? Keep reading to find out why.
AcuSense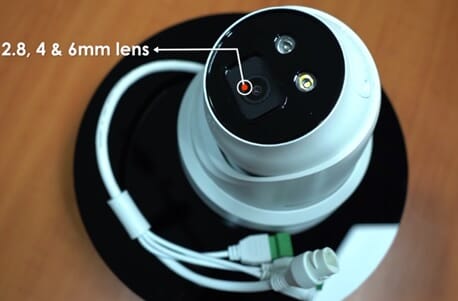 AcuSense CCTV cameras are among the best because they utilize the superior AcuSense technology. The AcuSense technology provides precise sensing in all its security hardware.
Some of the unique features of AcuSense CCTV cameras are:
Video search
A deep intelligence algorithm is in-built in the CCTV camera to enable it to distinguish different moving objects such as people and vehicles. This helps the camera to sort the footage into vehicle and human categories.
In case you want to find out the number plate of a suspicious vehicle that is lurking around your property, you do not have to endure hours of stored footage trying to find the footage that captured the vehicle's details best. All you have to do is go to the vehicle category of the footage and find the most recent ones and begin your research.
Live footage
The surveillance system of AcuSense streams live footage that will allow you to view events as they unfold in real time from any location in the world. You can also playback the videos if you suspect you may have missed important information in prior viewing.
Resolution
Due to the high resolution that AcuSense technology provides, you can be certain of having access to key data and precise information in the footage recorded by the cameras.
Minimise Alerts
Thanks to the intelligent AcuSense technology, the CCTV cameras can detect when an alarm is triggered by a human being, a vehicle, or an object. This will reduce the occurrences of false alarms and allows you to prioritize which alarms are important and which ones are not.
Perimeter scan
Are there people who are always trespassing on your property? AcuSense cameras can help you level up the protection of your property by alerting you anytime someone or something (vehicle) crosses your perimeter.
Customizable audio
Some AcuSense CCTV camera will allow you to customize a unique audio message that will be played automatically whenever the camera detects an intrusion in your property. The audio will scare away any intruder by creating an illusion that the owner of the property is around. A human voice is more effective as a warning compared to a written sign. You could be half way across the world, but your voice could help keep your property safe back at home.
Apart from using your own voice, you can also use a customizable siren that will sound off if the CCTV camera detects any human intrusion. You can also set a flashing light to appear several times during an intrusion. We recommend that you update the camera system to react only to human intrusion before you set any customizable audio, siren or light to be activated anytime the AcuSense CCTV detects intrusion.
ColorVu
Just as the name suggests, ColorVu CCTV cameras produce colorful images and footage even in environments with poor lighting. ColorVu technology focuses on color because other security systems with infrared lighting do not produce clear images in the dark. Instead, the images from infrared conventional cameras are sometimes blurry and blend into the dark producing low quality unreliable footage.
Some great features of ColorVu CCTV cameras include:
Night vision color
As discussed above, ColorVu security cameras perform really well in the dark. When other infrared or night vision CCTV cameras produce blurry black and white images in the dark, ColorVu security cameras produce brightly colored images in the dark.

Visual experience
Thanks to the balanced brightness of ColorVu technology, you can use the CCTV camera to monitor strategic areas of your property, especially those with poor lighting. The ColorVu security cameras will provide you with bright and clear footage of low-lit areas such as:
Dark walkways and stairways of residential buildings
Entrances and exits of dimly lit businesses
Hallways, dumpster areas, and loading docks of businesses
Parking lots
Recreational areas and parks during dark evenings
Color information
The most unique thing about ColorVu CCTV cameras that distinguish them from other conventional security cameras is their precise color-rendering feature. Although this may not seem like a significant factor, precise information on color is always useful especially in crimes. In case there is an intrusion on your property, the ColorVu camera will provide you with specific details such as the color of the clothes worn by the perpetrator and the color of the vehicle used among other useful details.
ColorVu GEN2
ColorVu GEN2 cameras now have the great features of AcuSense cameras, like human, vehicle, an object detection built-in right into the camera. You now have the best of both worlds.
NVR (Network Video Recorder)
Network video recorders are units, much like an DVD player, that are used to store recorded video from the cameras. More importantly an NVR is also used to power CCTV cameras via a single ethernet cable, using a technology called Power-over-Etherent (PoE).
Most NVR's come in different port or channel configurations and storage capacity sizes. NVR's are usually specified with the number of channels (i.e. cameras) that can be directly connected. Typically sizes are 4channel, 8 channel, 16 channel and so on. Storage capacity can range from 3TB upto 100TB.
The most popular NVR's are the 8 channel and 16 channel because they allow the buyer to start with a small number of cameras and provide for expansion in the future.
PoE (Power-over-Ethernet)
IP cameras can also be connected to what is known as a "power over Ethernet" (PoE) switch, which both sends data from the camera and provides power to it. Analog cameras, on the other hand, require a switch to run the signal from the camera, as well as a separate power source, meaning a more complex setup and more wires. PoE switches are also generally regarded as a more secure way to transmit data.
Accessories and terminologies
As a buyer, you need to know that CCTV cameras do not function on their own. You will need to buy other accessories in order to receive the best service from CCTV cameras.
Some common CCTV cameras accessories include:
Ethernet cables
The Ethernet cable (commonly known as CAT5e or CAT6) will ensure easy flow of data and power to IP based security cameras. The Ethernet cable has eight copper wires that are insulated and split into four different pairs. Each pair of wires is twisted together to reduce any occurrence of signal interference. The cable connects the CCTV cameras to a network (could be a home network or an office network), typically by directly plugging into an NVR (Network Recording Device) or a PoE switch or PoE injector.
CCTV Monitor
Another important accessory that you cannot ignore when shopping for a CCTV security camera is the monitor. This is the display that you will use to receive and view feed from the CCTV camera and or the NVR (Network Recording Device). Although some CCTV security cameras come with apps or websites that can allow you to stream live footage on your phone, not all security cameras have them. If you want to set up a security camera system in a large industry like manufacturing, then a phone will not be enough to keep an eye on the property. In this case, several CCTV monitors would be effective. The monitors help to keep an eye on all the areas covered by the CCTV all at once on the same screen. Most CCTV monitors have LCD screens with different types of inputs such as:
---
Final
We suggest that you consider CCTV security cameras that use AcuSense or ColorVu technology. If intelligence is an important factor in your selection of CCTV cameras, then you may try leaning more on AcuSense cameras. If you are aiming for precision and accurate detection, then focus more on ColorVu cameras.
Contact us at sales@diysecuritycameras.com.au for any further questions and have a great day